Working with Multiple Sclerosis: Shared Success
without prejudice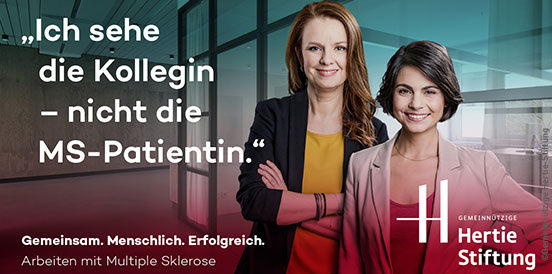 BDA AGENDA 8/22 | Extra of the Week | 28 April 2022
The Hertie Foundation's current campaign aims to increase visibility for the needs and achievements of people with MS in the workplace, and to promote greater inclusion of this group of people in the workforce.
People living with MS or other chronic diseases often have a harder time at work. With its current campaign, the Hertie Foundation wants to increase visibility for the needs and achievements of these people in working life in order to create better conditions for them and to promote their employment among employers.
Room for even more strategies to promote inclusion and diversity in staff acquisition
Diversity and inclusion are playing an increasingly important role in staff recruitment, but more can be done to employ people with chronic conditions: This is the result of a representative survey of 2500 decision-makers conducted by the opinion research company Civey on behalf of the non-profit Hertie Foundation. A large proportion of the respondents stated that they were satisfied. They support the practical integration of chronically ill people that is practiced and implemented in their companies. This shows that many companies are setting a good example.
However, there is still room for improvement. This is because 13 percent of those surveyed stated that they were not or rather not satisfied with how their company integrates people with chronic illnesses (e.g. multiple sclerosis). It is important to take concrete measures to promote more inclusion and diversity in personnel acquisition. Half of the companies surveyed take a strategic approach here.
"Together. Human. Successful." Campaign on MS in the workplace
The Hertie Foundation has long supported research into multiple sclerosis and is particularly committed to raising awareness of the disease and those affected by it. With the current campaign, it is dedicating itself to the topic in the work context in order to create visibility there as well and to encourage employers to implement more inclusive cooperation.
On the website
www.gemeinsam-menschlich-erfolgreich.de
and on the foundation's social media channels, people affected by MS, employers and experts will be sharing their personal experiences of dealing with MS and other chronic illnesses in the workplace over the coming weeks.
The aim is to break down prejudices through fascinating background information and, with informative contributions from business and research, to show how an open corporate culture can enable people with multiple sclerosis to enjoy a long and fulfilling working life. Find out more now!