Opportunities. Debts. Freedoms - Youth the triple crisis loser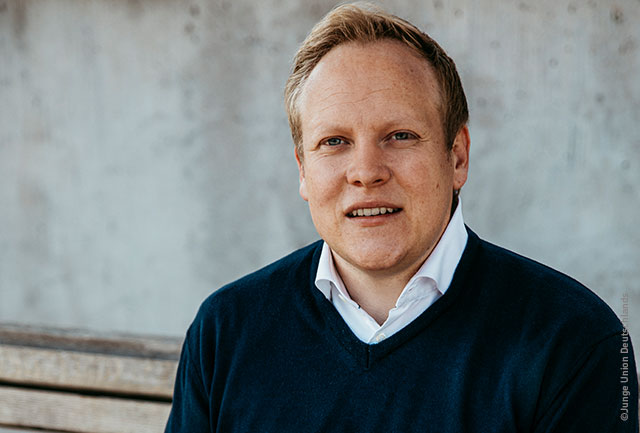 BDA AGENDA 06/21 | COMMENT OF THE WEEK
Tilman Kuban | Federal Chairman of the Junge Union of Germany
Berlin, 17 March 2021.
Yes, there needs to be an effective pandemic response. At the same time, the majority of our generation is very responsible. We go shopping for the elderly, get involved as helpers in the vaccination centres and simply stay at home to protect the vulnerable groups in particular. At the same time, we know that there is much less severe disease progression in our generation. Of course, we will still do everything we can to protect the elderly. It is also important to me personally that my two grandmothers stay alive, and if we have to forego prosperity in order to do so, then we are prepared to do so, because it is precisely this cohesion between the generations that makes a society worth living in and fit for the future.
But we expect that this renunciation will also be seen and acknowledged. The young generation is becoming the triple loser of the crisis in opportunities, debt and freedoms. We struggle with a non-functioning (digital) education system, push as graduates into a labour market hit by the recession, will carry a huge mountain of debt to cope with the pandemic and cannot live out the freedoms of youth to explore the world, meet friends or get to know one's partner and thus develop our own personality. Even at the last conference of minister presidents, none of these issues played a role; instead, Germany is discussing "special rights for vaccinated people".
In the wake of the pandemic, intergenerational policy must be the order of the day. With a real cash review for the federal, state and local governments, an economic upswing worthy of the name and new spending discipline. To this end, I want us to return to the debt brake as quickly as possible and to ensure that sound finances remain a trademark of the Union and of this country. We must concentrate investment in the areas of education, research and innovation in order to make Germany's promise of advancement, that the next generation should be better off than the present generation, a reality once again. And it cannot be the case that, with the upcoming care reforms or pension benefits for the retiring baby boomers, every demanding statement by the young in the direction of the older generation immediately triggers a huge outrage. Because fairness is not a one-way street.