With this message, the BDA, together with the other leading business associations, is promoting more training and employment for people with disabilities.
Equal opportunities for people with disabilities to prove themselves in the workplace through performance are not only a socio-political task, but also make good business sense and are part of a living corporate culture. The equal participation of people with disabilities in working and professional life is an important social and labour market policy concern. Employers take this responsibility seriously and are actively committed to training, professional inclusion and the sustainable reduction of unemployment among people with disabilities. 1.1 million (BA 2018) severely disabled people in employment prove this. If used correctly, they are fully capable employees who are often particularly motivated to perform their tasks.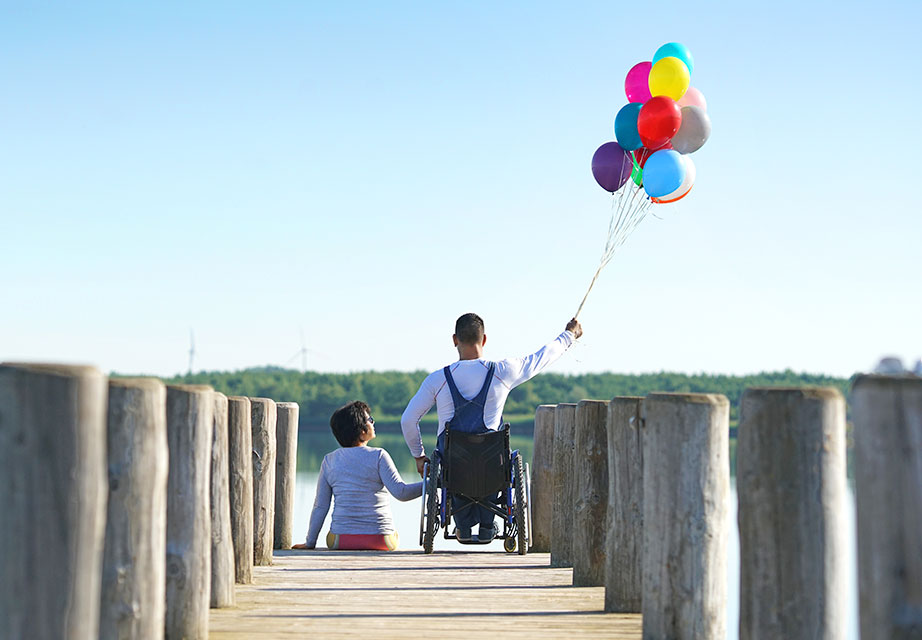 Inclusion in the best interest of companies
For years now, the BDA and its member associations have been committed to breaking down the often still existing prejudice that "disabled equals underperforming" and to encouraging companies to provide more training, employment or continued employment for people with disabilities. The website
Attitude counts - employers win" initiative aims to draw attention to potentials
With the
In the discussion about the compensatory levy and the employment quota, it must be taken into account: Already now, the number of unfilled compulsory jobs significantly exceeds the number of unemployed people with severe disabilities. So even if all unemployed people with a severe disability could be integrated, the employment rate of 5 % could still not be reached.
Create interagency pilots for employers
The structured system of rehabilitation is difficult to understand for people with disabilities as well as for employers. In many cases it is difficult to see which agency is responsible for which support measures. Coordinated, rapid, effective and company-oriented support and advice from the rehabilitation providers is crucial for success. However, there is still a lack of a competent cross-agency pilot for employers. The
Insights into practice with recommendations for action on the topic of inclusive leadership: "Inclusive Leadership - How to Successfully Include People with Disabilities in the Company".
Further information
On the subject of training: "Pretty much the best employees - experiences, facts and tips on inclusive training".
Further Information
Special arrangements must not lead to exclusion
The many well-intentioned special regulations for severely disabled employees make it difficult to break down the prejudice that unfortunately still sometimes exists among employees and employers that "severely disabled equals poorly performing" and to encourage companies to hire more severely disabled people. Many protective regulations often have the opposite effect of inclusion, in that they even create new additional barriers to recruitment. Decisive for more participation of severely disabled people in working life are above all professional help and support to overcome objective obstacles as well as successful examples of successful integration and inclusion. The professionals in the employment agencies and the rehabilitation providers and, not least, the integration offices and specialist integration services are called upon here. It would be counterproductive to continue to suggest that people with disabilities have a lower level of performance per se through new - albeit often well-intentioned - protective regulations or further overregulation in disability law.
Information portal REHADAT: With fourteen portals, numerous publications, apps and seminars, REHADAT is the central independent information service on occupational participation and inclusion of people with disabilities. The information is aimed at those affected, but also for companies. REHADAT is a project of the Institut der deutschen Wirtschaft Köln e.V., funded by the Federal Ministry of Labour and Social Affairs (BMAS) from the Equalisation Fund.
Further information
Business is involved in many ways
Many companies are committed to improving inclusion. Successful examples of inclusion in the interest of all those involved, which are intended to inspire imitation, are also awarded annually by the Inclusion Prize for Business, which the UnternehmensForum awards together with the BA, the Diversity Charter and the BDA. The BDA will continue to disseminate successful examples such as these and thus demonstrate how living together in work and career can succeed.
Social partners active: In order to jointly ensure more inclusion in companies, BAVC and IG BCE signed a social partner agreement on the topic of inclusion in Hanover on 2 September 2020. The agreement provides for nine fields of action. Above all, awareness in companies of the importance of inclusion is to be improved and concrete offers of help are to be pointed out.
Further information

---
Links and PDFs on the topic