Out of the crisis and onto the growth path
Economic growth is the basis of our prosperity. In order to maintain prosperity, a new growth path must be sustainably achieved after the crisis caused by the Corona pandemic. More value-creation activities must be made possible in Germany as a business location. A central task of economic policy is therefore to improve the framework conditions for companies.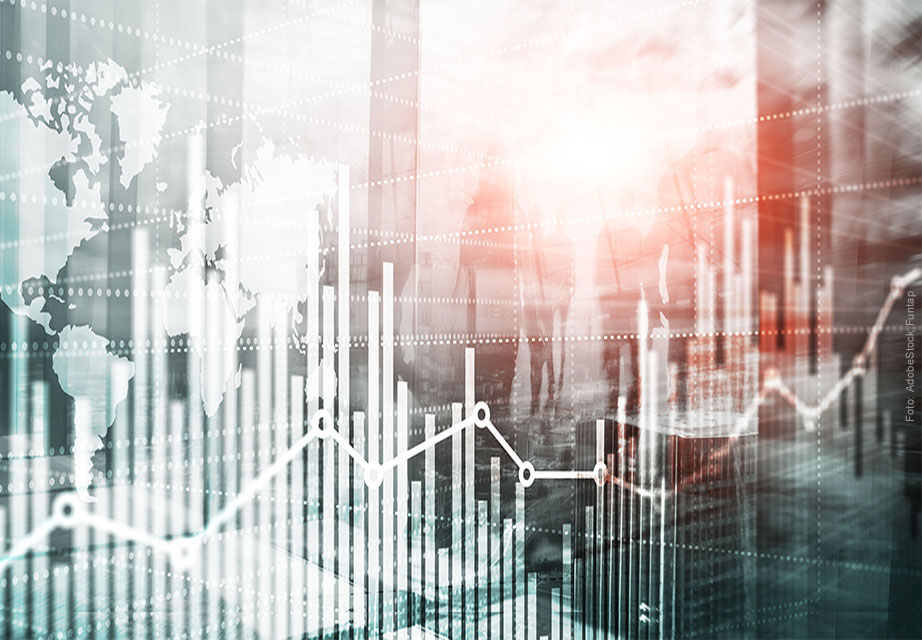 Economic growth, measured as an increase in
An important measure of the supply of goods and services, in short prosperity, is growth per capita. As one of the main objectives of economic policy, this growth can help resolve social conflicts within a society and drive structural change. Finally, it also generates funds for tasks in the field of environmental protection and development aid.
Corona pandemic brings economic slump
The Corona pandemic and its accompanying restrictions during 2020 have hit the German economy unprepared and far-reaching. During the initial lockdown in the spring, GDP plummeted by 11.3 percent in Q2 2020. Overall, the German government expects an average GDP decline of 5.5 percent in 2020. The development in the coming months is subject to many uncertainties and will depend in particular on the further course of the pandemic. As of October 2020, the federal government is projecting GDP growth of 4.4 percent in 2021 and 2.5 percent in 2022. However, it is impossible to predict whether the November 2021 partial shutdown will be the last major cut of its kind and how Germany's close trading partners will cope economically with the crisis. It can be assumed that the international environment will remain difficult.
Burden moratorium for economic recovery
In principle, economic growth can come about in two ways: First, through higher utilization of existing production capacities, and second, through the creation of new production capacities. In addition to investments in machinery and equipment, investments in education and technological progress determine the level of economic growth.
In the crisis triggered by the pandemic, it is important on the one hand to stabilise the markets by providing financial support and loans, as the Federal Government has ensured to an historic degree. Thus, the protective umbrella, with its size of 1.2 trillion euros, made an important contribution to securing liquidity and at the same time sent a signal of reassurance to the outside world. For the June 2020 economic stimulus package, the German government has pledged the large sum of 130 billion euros to revive the economy. However, to achieve this goal, it is also imperative to improve incentives for investment and increase the scope for entrepreneurial action. It is urgently necessary to implement a comprehensive moratorium on burdens for the economy in and after the crisis.
---
PDFs on the topic