Dual study as a model for success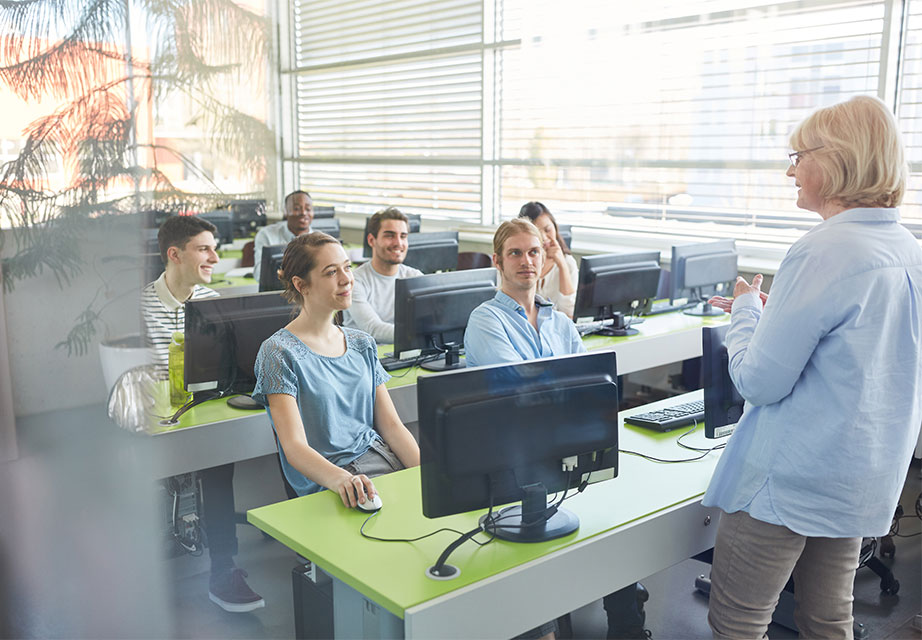 The dual study programme is a success story: students are taught knowledge in a practice-oriented manner at the two learning locations of university and company - in different dual study programmes that are designed to meet the needs of the region, the companies, the universities and the students. The high acceptance and low dropout rates underscore their practical relevance and quality.
The dual study programme combines a course of study at a university or university of cooperative education with vocational training and/or regular practical phases in a company. This usually takes place within the framework of initial vocational training as a training-integrated course of study (simultaneous completion of studies and training) or practice-integrated course of study (completion of studies alongside a job). In addition, there are offers in the area of continuing vocational training.
Dual courses of study are characterised by the fact that professional practice and study are interlinked organisationally and curricularly and that there is usually a contractual relationship between the students and the companies (e.g. training, internship or employment contract).
High demand, growing supply, high success rate
Dual courses of study are very popular with students, universities and companies alike. More than 1,500 dual courses of study are now offered nationwide, and over 100,000 women and men have currently opted for a dual course of study, with over 48,000 companies cooperating with universities or academies for this purpose (BIBB 2019). The trend is continuing to rise.
At 7 percent, the dropout rate in the dual study program is far below the average for other bachelor's degree programs (29 percent), and the acceptance rate for graduates is consistently high - all signs of the high quality and practical relevance of dual study programs. The dual study programme is a successful model.
Most dual courses are offered in the field of economics, usually in conjunction with commercial training, followed by courses in computer science and mechanical/process engineering. There is also a large number of offers in electrical engineering and engineering sciences, but also in the fields of social work and economics and social studies. In the past ten years, the number of courses on offer has almost doubled. The business community expressly welcomes this trend, because everyone benefits from the combination of practical training in a company with studies at a university or university of cooperative education:
Advantages for all involved
Students acquire a scientific qualification and sound practical experience. In the case of a training-integrated course of study, they can present two degrees at the end. In addition, they have already demonstrated their organisational skills, discipline and motivation during their studies - important qualities for further professional development.
Universities benefit from intensive cooperation with companies and strengthen the practical relevance of their teaching. They open up to working people, improve the permeability between vocational and higher education and expand their portfolio. The cooperation between business and science also promotes the transfer of knowledge and technology.
With the help of dual courses of study, companies can train the necessary skilled workers in a practice-oriented manner and retain qualified junior staff at an early stage.
Further expansion of dual study programmes
Also in view of the shortage of skilled workers in the STEM field, the business community welcomes the positive development in the area of dual study programmes and supports the universities in further expanding their offerings. Dual studies are particularly important for strengthening regional economic structures. The number of participating companies is constantly growing. Dual courses of study are recognized as an important building block for an innovative and sustainable personnel policy. From the employers' point of view, the number of dual students can and should double by 2030. The prerequisite for this is that the range of subjects continues to expand - beyond economics, engineering and computer science - and that no new regulations and bureaucratic hurdles are erected.
The BDA and the Stifterverband have compiled a