Employment of older people is a success story
More employment of older workers is possible and, in view of the demographic challenges and increasing shortages of skilled workers, also necessary in order to secure competitiveness and prosperity in Germany.
The employment rate of those aged 55 to under 65 has doubled between 2000 and 2019 - from 37% to 73% (Eurostat, 2020). No other EU country, with the exception of Sweden, has a higher proportion of older people in work. This success is being jeopardised by misguided pension policies that encourage early retirement. Instead, the employment of older people must be further increased by pursuing the right reforms to extend working lives. This is essential, not least because of demographic trends: By 2040, the number of people aged 20 to 65 could fall by around 6 million to under 44 million. Already, almost 40 % of the people in this group are older than 50 (Federal Statistical Office, 2020).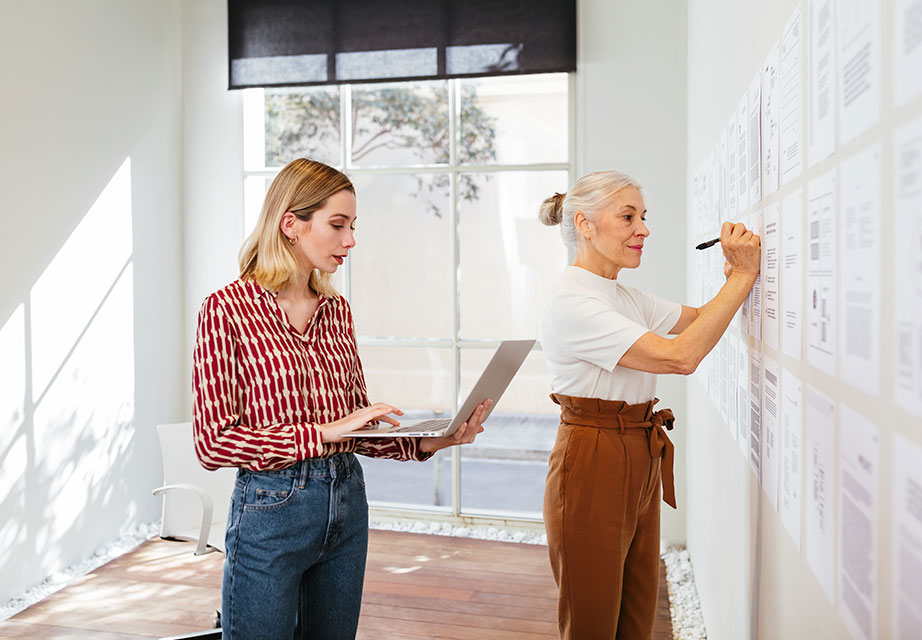 Pension drawdown rising steadily - longer working lives needed
Mainly due to the fortunately continuous increase in life expectancy, the average pension drawdown period has doubled in the last 50 years - from less than ten years in the early 1960s to almost 20 years today (Deutsche Rentenversicherung Bund, 2018). Without an adjustment of the working life to the increasing life expectancy, the statutory
Noticeably facilitate the employment of older people
The employment of older people has been made easier by the Flexirentengesetz. The Act makes more flexible working up to the standard retirement age more attractive and makes it easier to continue working beyond the standard retirement age. Employers and employees can now agree to limit the term of the current employment relationship to a point in time after the standard retirement age and to postpone the agreed termination date - if necessary several times. This creates legal certainty and flexibility in the transition to retirement and is an important step towards supporting the employment of older workers. There is still a need for noticeable facilitations for the employment of older workers, e.g. a clearer relaxation and simplification of the supplementary earnings limits and the removal of obstacles under labour law to the re-employment of former employees of pensionable age.
Reduce early retirement incentives
One disincentive is the extension of the duration of unemployment benefits for the over-58s to up to 24 months, which came into force in 2008. This extension has meant that older people tend to remain unemployed for longer. Unemployment benefit should therefore again be set at a uniform maximum of twelve months. Another completely counterproductive measure is the 63-year retirement age for those who have been insured for a particularly long time, which was introduced as part of the Pension Insurance Benefits Improvement Act. The retirement age of 63 without deductions will thus lead to a noticeable worsening of the shortage of skilled workers, as it will deprive companies of important, urgently needed skilled workers.
Demographically sound personnel policy: rethinking among employers and employees bears fruit
Many companies have recognized the potential of older employees and have launched their own initiatives to tap into this potential even more. The starting point for successfully dealing with ageing workforces is a demographically sound personnel policy geared to the various phases of life and encompassing the areas of health, qualification and motivation. Many companies already offer special personnel policy measures for employees over 50 years of age (
Accordingly, the number of those employees who want to continue working beyond the standard retirement age is also increasing. Among the personal motives of all persons who want to continue to pursue regular gainful employment or work in addition to an old-age pension, social reasons usually outweigh financial ones. Over 90% say they enjoy their work and need contact with other people
(IAB, 2018
). Companies also increasingly want to continue employing their staff after retirement
(IAB, 2019
,
IW Köln, 2020
). The German Council of Economic Experts (Sachverständigenrat zur Begutachtung der gesamtwirtschaftlichen Entwicklung) also noted in its current
Practical examples from companies and aids for action are offered by the Competence Centre for Securing Skilled Workers, among others.
Maintaining employability throughout the life course and improving the employment situation and opportunities of older workers are also of increasing importance in collective bargaining policy. In some sectors there are collective agreements with regulations on demographic change and older employees. However, collective agreements can only ever provide a framework that supports companies in coping with demographic change in a way that is specific to each company. In addition, personal responsibility and initiative on the part of employees are decisive prerequisites for successful company measures to maintain employability.
---
PDFs and links on the topic