Germany before the election: How can the economic reboot succeed?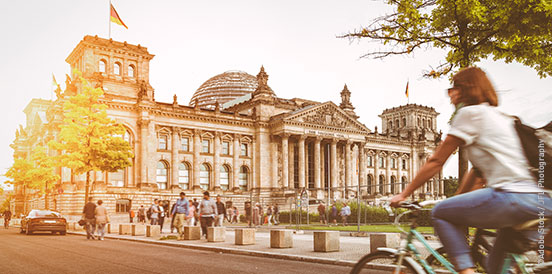 BDA AGENDA 22/21 | Topic of the Week | 23 September 2021
From the point of view of the business community, the answer to the challenges of our time is clear: our country needs more entrepreneurial spirit, more courage, more freedom for ideas! After the Bundestag elections, there is therefore no time to lose.
9 points for the first 100 days: What the new federal government must immediately tackle for an agenda for the future 2030 from the employers' point of view!
The digital and ecological transformation, the energy and mobility turnaround, demographic change and increasing international competition are just some of the megatrends that demand bold and sustainable political responses in Germany and Europe. The social market economy must also adapt. This can only be achieved with strong companies. Because the economy is all of us! The focus should be on children and young people. Education is the building material of our future: schools must become more digital, they must become better at career guidance, above all we need more female scientists and more day-care facilities. In a second step, we must make the working world of the future fit: Not more, but smarter working with more working time flexibility. The EU Working Time Directive makes it possible to relate the legally permissible maximum working time to the week rather than the day. This would give employees more leeway in organising their working day and would, for example, make it much easier to reconcile family and career.
And there is a need for further reform: Under current law, employees must take an uninterrupted rest period of at least eleven hours after completing their daily working hours. So if you take the afternoon off for family time and are still answering e-mails at 11 p.m., you can't start work again until 10 a.m. the next day at the earliest. Let's be honest: this regulation completely misses the reality of many people's lives. Therefore, the EU Working Time Directive provides for an opening clause for collective agreements, which the German legislator has not yet fully implemented. It is becoming clear: For good working conditions and more collective bargaining coverage, we need more attractive collective agreements. What we do not need: A political minimum wage with outbidding competition! After all, how does it end if one party demands 12 euros and the other 13 euros minimum wage? Trade unions and employers can decide that for themselves in confidence.
It is also clear that our welfare state must remain affordable! This can be achieved with a catch-up factor for pensions and a readjustment of the sustainability factor in the pension formula. The truth is that bureaucracy can exacerbate crises! Therefore: Reduce complicated procedures to the bare minimum, introduce a digitalisation check for new laws and listen more to practitioners from the business community when it comes to legislation.
Europe is particularly close to the business community's heart, so last but not least: Europe is also all of us. And Europe only works with sound finances, less bureaucracy, less interference in the social partnership, a functioning balance between the nation states and the Brussels institutions, and regulated immigration of skilled workers. It is clear to all of us that the European Union still has room for improvement here and that not everything runs so smoothly during the crisis. That is why the next German government should once again expand its commitment to European policy. Germany and Europe must do better if they want to regain trust.