Summer of Vocational Education: Offers for parents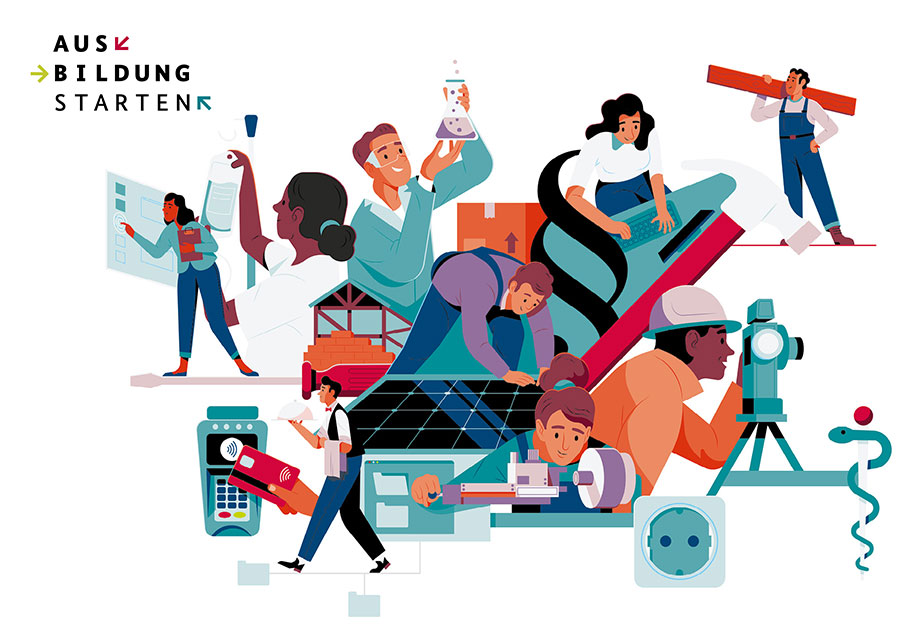 BDA AGENDA 15/21 | TOPIC OF THE WEEK | 8 July 2021
Career Orientation faced many hurdles during the 2020/21 Corona school year: The topic was less present than usual in the classroom due to school closures. Career counsellors at the employment agencies were no longer able to reach young people personally. The result: Many young people are uncertain about their career choice and do not register as training applicants with the BA. At the same time, numerous companies are desperately looking for trainees.
As partners in the Alliance for Initial and Continuing Vocational Education and Training, the social partners, business, the Federal Government and the Länder jointly launched the "Summer of Vocational Education and Training" in June in order to intensify vocational orientation and to attract school leavers to in-company training. With its #AusbildungKlarmachen initiative(#ausbildungklarmachen: Secure the training place that suits you - Bundesagentur für Arbeit (arbeitsagentur.de )), the Federal Employment Agency( BA) is offering a wide range of information on all aspects of vocational training, including the Check-U: Test your strengths - Bundesagentur für Arbeit (arbeitsagentur.de) exploration tool. Until October, numerous campaigns are also planned by the alliance partners: digital, decentralized and towards the end of the summer - hopefully - also in presence.
With the support of the BA, the BDA has taken on the sponsorship of the "Week of Parental Work in Vocational Orientation". The ambassador is Christina Ramb, member of the executive board: "Parents play a central role in career orientation. They know their child best and as confidants are good advisors". BA board member Detlef Scheele emphasises: "We also support parents in their important function, for example by offering them thematic information events. I would advise young people to contact us by all means: Our career counselling actively helps with the choice of career and the search for an apprenticeship." From 5 to 9 July 2021, a webinar of the SCHULEWIRTSCHAFT Deutschland network will take place every day from 4 - 5 p.m. at the BDA with a daily changing focus on the topic of parental work (Summer of vocational training: Parental Engagement Week 5-9 July - School Economy.). The spectrum ranges from practical checklists and good company examples ("digital parents' evening") to interesting facts and arguments from surveys and polls. The aim is to make companies and parents aware of their important role in young people's career choices and to offer them concrete practical help.
In August, the BA will sponsor the theme week "Your region offers you exciting professions and training - get to know them in the company", with the support of the BDA. Among other things, a joint company visit by BA board member Detlef Scheele and Christina Ramb is planned. The signal here: With an apprenticeship place, companies offer young people the best opportunities to get off to a successful start in their careers. Statistically, there are currently around 5 training places available for every 4 applicants. It will still be possible to start an apprenticeship in autumn and winter. School leavers should not miss this opportunity.