Training year in final spurt: Tens of thousands of companies still urgently looking for skilled workers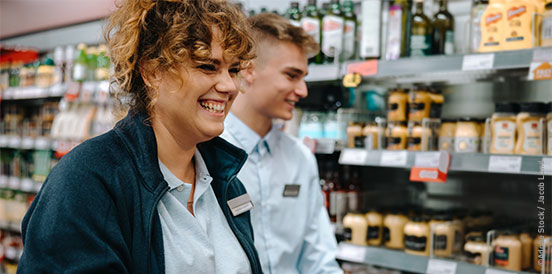 BDA AGENDA 26/21 | Topic of the Week | 11 November 2021
More than 61,000 training places were still unfilled as of 30 September. For every 4 applicants there are almost 5 training places. This shows: The demand for a "training guarantee" is absurd.
The Federal Employment Agency (BA) has taken stock of the 2020/21 placement year. In the second Corona year, the number of registered in-company training places fell only slightly compared to the previous year (-3.4%). In contrast, the decline in the number of registered applicants is high, similar to the previous year (-8.3%). As a result, young people's chances of finding a training place are excellent despite the pandemic: There were 118 registered training places for every 100 applicants.
This ratio shows that there is not a supply problem but a matching problem on the training market. And: What is most worrying is the declining number of applicants. A "training guarantee" with increased extra-company training instead of dual vocational training, as is being called for in some quarters, does not solve this problem. On the contrary, it sends out the wrong signal by encouraging young people to retreat to a narrow spectrum of desired occupations instead of motivating them to apply for the many vacancies in training companies. The BDA argumentation paper "
Effectively supporting the training market, not regulating and distorting
it" shows in detail and on the basis of current figures why a decoupling of supply and demand through a "training guarantee" would be fatal.
The unbroken commitment of the business community to training is evident in the contract figures: By 30 September, 2% more training contracts had been concluded than in the previous year. This is also a credit to the "Summer of Vocational Training": From June to October, the partners of the Alliance for Initial and Continuing Vocational Training drew attention to the excellent opportunities offered by vocational training - and will continue to do so. The BDA also went full throttle in this concerted campaign. Through the patronage of the "Week of Parental Work in Vocational Orientation", company visits with the participation of the BDA's executive board and numerous webinars, an impressive reach was achieved. In vocational orientation, however, there is still a need to catch up, particularly in the networking of schools. This is where we have to start together with the partners of the Alliance for Initial and Continuing Training.
In the post-placement period, too, the matching of supply and demand must be pursued with all our might. The economy needs the skilled workers of tomorrow more urgently than ever before. Only with them can the economic upswing succeed despite and after Corona.